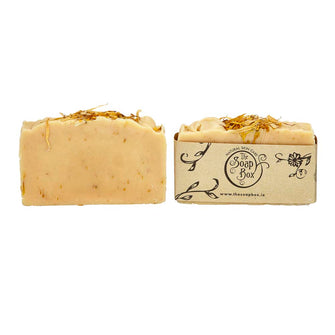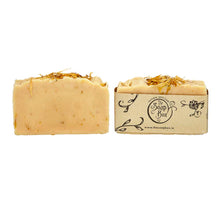 Flower Power Soap
This Flower Power Soap has a gorgeous fresh lemony scent. Therapeutic grade essential oils of lemongrass, geranium and bergamot are combined to give this soap amazing uplifting qualities. These essential oils are also known for their antibacterial, antiseptic and balancing properties. The soap contains calendula petals which gently exfoliates and soothes the skin. This soap is highly recommended for acne and problem teenage skin. 
This is a  cold process soap. This method of soapmaking ensures that the soap retains its natural glycerine which is great for the skin. A blend of olive, coconut and castor oil is used which results in a glycerine rich bar with a rich luscious long lasting lather. Beeswax is added for hardness. Free from harmful chemicals. 
Ingredients: Olive oil, Coconut oil, Water, Castor oil, Beeswax Calendula Officinalis. Essential oils: Geranium, Lemongrass, Bergamot, Turmeric.
100b bar