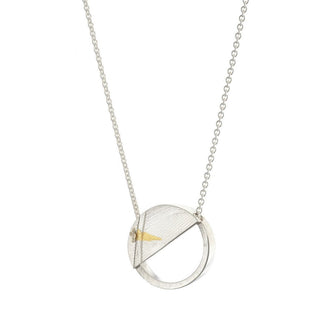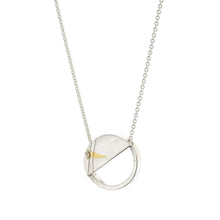 Birds of a Feather Small Sterling Silver Semi-Circle Necklace
Contrasting geometric forms with natural patterns, this necklace is embossed with a feather found on a country walk. It is imprinted into the silver preserving its unique pattern. A 24 carat gold thorn is then fused into the metal adding another layer of embellishment. 
Pattern and texture will vary from the picture shown as each piece is individually embossed and embellished. Your necklace will be unique! All are handmade in Kilkenny, Ireland.
Dimensions: Chain length 45cm (18in). Adjustable to 40cm (16in). Sits below the collarbone. Pendant is approx 15mm in diameter