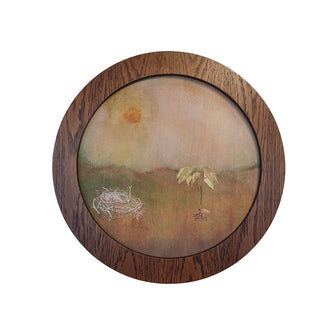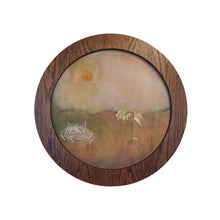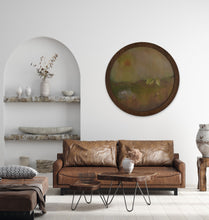 The First Morning
This print is a tribute to the late Philosopher, writer, and unique mind John Moriarty, whose work I came across only in the last few years. I've been bringing his book Dreamtime with me when I go on an artist retreat. His beautiful writings and ways of seeing the world have thought me so much and heavily influenced this body of work. I know I still have a lot to learn from Johns Writing. Moriarty is so connected to nature and has helped me connect too..He lives on in so many ways. The hazel is known in folklore as the poet's tree here the sapling represents John's wisdom. This particular story told by Martin Shaw really moved me and inspired this print & "The Poet's Nest" also from this collection.

Medium: Digital print on calico fabric of original Oil painting finished with hand embroidery detail. Limited to 10 editions only.
Signed by the Artist.
Dimensions: 48cm Various sizes available upon request.

We are happy to accept deposits on all works, they may be paid off over several weeks. If you have any questions feel free to contact us. Thank you for supporting Irish artists.

Jackie is a textile visual artist based in Cavan and studied art at Cavan Institute and was awarded an honors degree in Textile Art and Design in G.M.I.T. She went on to gain valuable experience working as a print designer in the fashion industry in London for several years.