'Something Blue' - Wedgewood...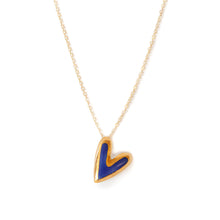 'Something Blue' - Wedgewood Blue And Gold Heart Necklace
Adorn yourself with this unique 'Something Blue' necklace, made with ceramic and plated with gold. It's a distinctive piece of Irish-made jewellery with a unique Wedgewood blue heart shaped pendant - perfect for injecting a bit of unexpected quirk and humour into any outfit!
Danu Ceramics inspired by a journey . . . . DANU specialises in handcrafted, designer ceramic homewares and jewellery made in Dublin, Ireland.
This is for the people who LOVE hearts....and who doesn't love hearts! A new take on heart-shaped jewellery.

Strung on an 45cm gold fill chain, each piece is handmade and will vary slightly from the image shown, ensuring your piece is always one of a kind!
Dimensions: Heart is 3cm approx in length.