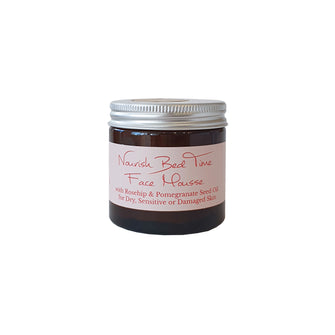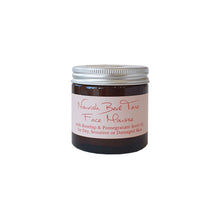 Nourish Bedtime Face Mousse
Nourish Bed Time Face Mousse is a little powerhouse of nourishing goodness for the skin.

Containing Organic Pomegranate Seed Oil which is the only (known) plant source of Punicic Acid, the rare essential fatty acid, Omega 5. Omega 5 fights free radicals (which cause skin damage every day) so it's felt it can delay premature ageing. Studies on the oil also suggest that it can help to repair sun damage that has already occurred. Pomegranate seed oil also contains Ellagic Acid which is an excellent ant-oxidant. It's an amazing oil. It isn't odourless but we have combined it with Geranium Essential Oil which works well with the oil and actually seems to deepen the geranium aroma.

Also containing Rosehip Seed Oil which is high in Vit A, and Omega 6 & 9. Full of antioxidants it is used to regenerate skin cells, and help with fine lines and scarring.

Mango & Cocoa Butters, Avocado Oil infused with Organic Calendula & Vitamin E are all renowned for their naturally hydrating, anti-oxidant, anti-itch & anti-wrinkle properties.
60ml Jar, min 35g weight