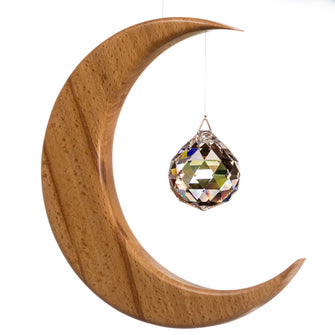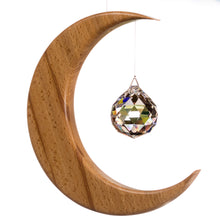 Artwood | Beech Large Moon Suncatcher | Crystal Sphere
A unique wood and crystal Moon Suncatcher made in Co. Leitrim, Ireland.
Made using ethically and locally sourced Irish wood and high-quality Egyptian Asfour crystals.
When hung in a window the sunlight catches the crystal, which acts as a prism and disperses rainbows all around your room.
An ideal gift for any age or occasion, for him or for her, for weddings, remembrance, special occasions, new baby, christening gift or baby shower gift, birthdays, and Mother's Day. Or for anyone who just loves all things lunar!
Length 16.5cm
String length: 40cm
Material: Native Irish beech
Finish: 4-6 coats of Danish Oil
Crystal: 4cm  Sphere Asfour crystal (round ball shape)
Because all wood is unique and varies slightly, your exact suncatcher may differ from the above image. Without a doubt, we will make sure that each and every piece is of equal natural beauty.