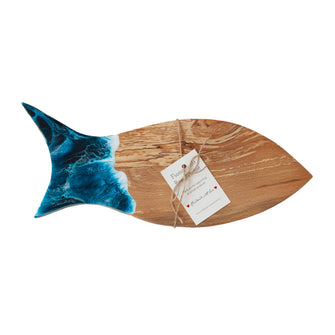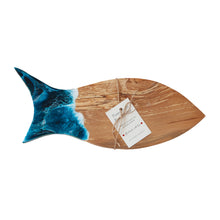 Ocean Waves Fish Shaped Cheese Board
Handcrafted Irish Beech paddle-shaped wooden cheese/serving board, with resin flow art in dreamy marine blue, turquoise and white. Perfect as a handcrafted Irish gift or just for yourself. It'll bring the ocean onto your dining table.

Please note that the pictures are a representation of the pieces and each piece while similar will be unique. 
Dimensions: Approx 38x 15 x 2.cm
Beech has natural anti-bacterial properties making it ideal for serving food. Wood also doesn't blunt your knives as plastic or composite wood does. Boards are finished in a natural mineral oil, never a cellulose finish.

Wash in hot soapy water but never leave submerged for long periods of time. Not dishwasher safe. Do not use a knife on the resin as it will mark. Resin & inks used are non-toxic and food safe.