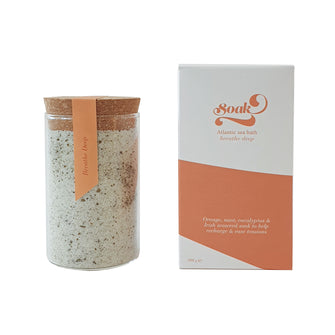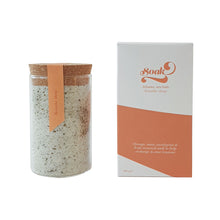 Breathe Deep - Bath Salt
Orange, mint & eucalyptus
Feel rejuvenated. Created to help you recharge, energise & unwind while soaking up skin rich nutrients for the softest skin.
This Soak is great for after exercise and for clearing sinuses/head colds.
100% Atlantic sea salt rich in minerals.
Almond oil to moisturise.
Irish seaweed to tone and detoxify.
Orange oil to energise.
Dried mint to refresh your skin.

Peppermint and eucalyptus oils to refresh and clear your mind.

Float in a dreamy bath of petals. Massage the oils into your body.

To enjoy:

Run a warm bath and add about a handful of salts to the warm water. Let the essential oils fill the room. Then slowly and mindfully enter the bath.

Calming music or mindful meditation is recommended with Soak. As there are oils in the products please be careful as the bath could be slippery. 1 jar will provide you with enough salts to enjoy 3 baths. Use about 1 teaspoon for a foot or hand soak.