Dún Aonghasa [U/A] Messenger...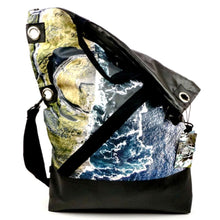 Dún Aonghasa [U/A] Messenger Bag
This Messenger features an aerial drone image captured by AerCamIreland of the spectacular circular fort of Dún Aonghase, on Aran Mór, County Galway.
Raymond Fogarty of AerCamIreland collaborated with Wild by Water on two new [UA] products – this Messenger and a Portfolio/Document, both feature this spectacular shot.
These messenger bags are rain proof and water-resistant. They can be worn many ways including over the shoulder; cross-body (folded & diagonal) and backpack.
They are very light and strong with a secure inner zipped pocket. The bags also include a reflective band across the "Urban" side – so you can be visible at night while also being comfortable to wear – on a bike, about town, or on a hike!!
Dimensions: Flat 44cm x 57cm
Weight: 45g