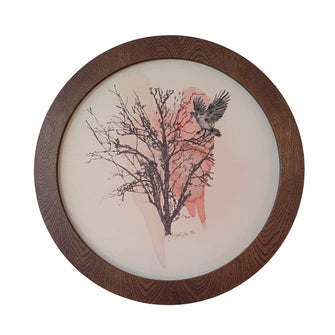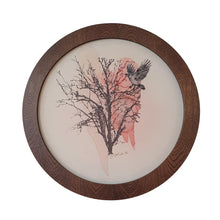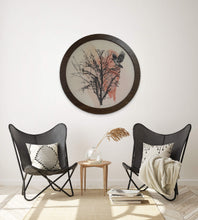 Morrigan
The hooded crow, with its black and grey feathers and habit of feeding on carrion, was a symbol of death war and bloodshed in Celtic myth and was associated with the goddess of war in various forms. In folklore, the hooded crow was also an omen of death and was linked to the banshee, the fairy women who was heard keening at the death of members of certain Irish families. The hooded crow was also seen in folklore as a clever and wily bird.

Information taken from: Niall Mac Coiter's, Irelands Birds Myths, Legends And Folklore.

Medium: Digital print on calico fabric of original pen and watercolour study finished with hand embroidery detail. Limited to 10 editions only.
Signed by the Artist.
Dimensions: 58x58cm. Various sizes available upon request.

We are happy to accept deposits on all works, they may be paid off over several weeks. If you have any questions feel free to contact us. Thank you for supporting Irish artists.

Jackie is a textile visual artist based in Cavan and studied art at Cavan Institute and was awarded an honors degree in Textile Art and Design in G.M.I.T. She went on to gain valuable experience working as a print designer in the fashion industry in London for several years.